Discover More


Follow Us




FlowTime Clock ...
What flowtime is it? Time displayed is Flowtime.
About Wedge Meters
Among other manufacturers, AMETEK-Solatron ISA and ABB both offer wedge meters.
Wedge meters consist of a flow body and a smooth wedge-shaped restriction in the tube which creates a pressure drop as the flow passes through it. Wedge meters measure differential pressure in liquids, gases, or steam.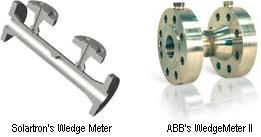 They have no moving parts, making them virtually maintenance-free. They generally give highly accurate readings and can handle low flows, highly viscous flows, dirty or corrosive flows, and hot or cold flows, with only a small reduction in the overall pressure of the flow.

---
Click to learn more about other technologies in:



---
Click to learn about other legendary flow products:



---